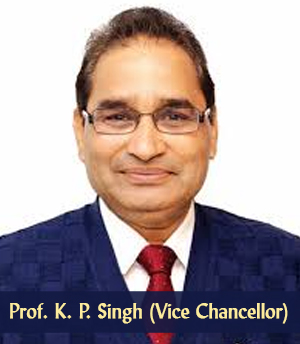 Education can transform human life more powerfully than anything else. Since ages, India had the privilege to create knowledge society; Takshshila, Nalanda and Vikramshila Universities being the best testimony of Indian knowledge tradition. As the Vice-Chancellor of MJP Rohilkhand University, Bareilly, I deem it to be my first and foremost responsibility to create conducive environment in the University campus to generate and transmit the knowledge and fulfil the motto of "Charaiveti, Charaiveti". Whether you are a student , an alumni, a faculty member or non-teaching staff, a citizen of Uttar Pradesh or India, or just a browser, Mahatma Jyotiba Phule Rohilkhand University (MJPRU) belongs to you . MJPRU Bareilly is a conglomeration of University departments and affiliated colleges spread in the region of Rohilkhand, which covers nine districts namely, Bareilly, Moradabad, Sambhal, Rampur, Bijnore, Amroha, Budaun, Pilibhit and Shahjahanpur, which lies on the upper Ganges alluvial plain and is bounded by the Ganges Doab to the South and West, Uttarakhand to the North, Nepal to the East, and the Awadh region to the southeast. Thus area wise this is one of the largest University in Uttar Pradesh. Forty- five years' commitment to excellence, encompassing around 548 colleges and institutions, has earned us a place among the nation's one of the most accomplished and respected University. Some of our affiliated colleges possess more than 150 years of legacy of academic excellence.
---
I believe that every Institution is known by the quality of the students that it produces and I take it as mission to build the human capital by transforming the lives of more than 1,75,000 new alumni and over 5,00,000 students total every year who enroll for various Undergraduate and Post- Graduate programmes in the University and its affiliated colleges. Through imparting quality education to these students I want them to shine as innovative, diverse, globally engaged citizens and future leaders – enriching our ethical values, cultural heritage and outshine others by creating prosperity and serving the public good in myriad ways following the spirit of "Vasudhaiva Kutumbakam".
---
Mahatma Jyotiba Phule Rohilkhand University is doing the utmost to instill a "deep-rooted pride" among students for being Indian not only in thought, but also in spirit, intellect, and deeds, as well as to develop knowledge, skills, values, and dispositions that support responsible commitment to human rights, sustainable development and global well-being, which ultimately lead in making "India a global knowledge superpower".
---
MJPRU system is entering into the phase of implementation and execution of National Education Policy 2020 (NEP 2020) and we have to ensure that every student must enjoy a safe and stimulating learning environment, availing a wide range of learning experiences and good physical infrastructure. Our goal will be not only to attain these qualities but also to strengthen, integrate and coordinate across institutions and industries within the country and abroad. This approach will bring MJPRU to reach for new levels of excellence in teaching- learning, research, extension, innovation, entrepreneurship, and societal impact. We add value – every day – to the state of Uttar Pradesh and we plan to make MJPRU the model for public higher education Institution in the 21st century.
---
As you know, MJPRU administration has adopted a proactive approach by switching over to online teaching or alternative delivery mechanisms and by reducing large gatherings of students during admissions, examination and evaluation to maintain the physical distancing, that our scientific experts say, is the key to slowing the outbreak of COVID 19 pandemic. At MJPRU, your success is important to us and we are pleased to have the chance to help you attain your academic, professional and personal goals.
Sincerely,
(Prof. K. P. Singh)